Course
overview
There is no denying that the level of cyber attacks has increased over the last decade. Some have affected small pockets of the world, whereas others have had more of a global impact. As the world becomes more interconnected through computer technology, the opportunity to steal data and disrupt lives has become more prevalent. There has never been a better time to become an IT Security Specialist than now. Demand for specialists continues to grow.
The certification bundle starts off by looking at key security concepts such as threat assessment, threat management, controls, cryptography, and on-going management. From there, the course then becomes highly specialised exploring security architecture and design, software development security, and telecommunications and network security.
This bundle contains 3 separate certification courses and 3 official CompTIA certification exams, that are both valid for 12 months from the time of purchase. Click on a title to see a full breakdown of the course syllabus and see what the course would cost if purchased on its own. Save BIG when you purchase this bundle.
Expand all and read more
Recognition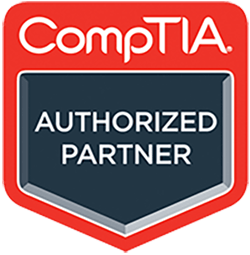 CompTIA Authorised Partner
Awards
Trusted Partner Award 2020
Duration
study load
Some people finish their course faster than others.  If you choose to only do one of the certification courses from this bundle, then it will take you less time than if you do two or three or all of them.  No matter what though, you will always have 12 months to complete your course.
Course
features
Expert Instructor-Led Training
Visual Demonstrations & Multimedia Presentations
Quizzes & Exam Simulators
Social Learning & Networking
Flash Cards & Educational Games
Navigation & Controls
Assessment
Certification exams included:
CompTIA Cloud+ CV0-001
CompTIA Security+ SY0-501
CompTIA Advanced Security Practitioner (CASP) CAS-002
Materials
All you need is an internet connection and a PC.  While most of the lessons work on MACs, we recommend you use a PC for the best performance.  Certain parts of the course may not display properly on older MACs.
Delivery
All courses are online and self-paced, meaning you do it in your own home, in your own time, at your own pace. Each lesson is pre-recorded allowing you to pause, fast-forward, skip sections, or go back to another lesson if you need to. The lessons are multi-media based, which means video and audio are used to teach the lessons. Most lessons are also interactive, prompting the learner to participate. This might involve answering on-screen questions, participating in tasks, and using simulators as if you were using the real software program.
Subjects
Core Courses
Course 1:
CompTIA Cloud+ CV0-001
Module 1: Intro
Module 2: Virtualization
Module 3: Infrastructure
Module 4: Resource Managament
Module 5: Security
Module 6: Systems Management
Module 7: Intro and Conclusion
Course 2:
CompTIA Security+ SY0-501
Module 1: – Threats, Attacks, and Vulnerabilities
Module 2: – Technologies and Tools
Module 3: – Architecture and Design
Module 4: – Identity and Access Management
Module 5: – Risk Management
Module 6: – Cryptography and PKI
Course 3:
CompTIA Advanced Security Practitioner (CASP) CAS-002
Module 1: – Business Influences and Associated Security Risks
Module 2: – Risk Mitigation Planning – Strategies and Controls
Module 3: – Security-Privacy Policies and Procedures
Module 4: – Incident Response and Recovery Procedures
Module 5: – Industry Trends
Module 6: – Securing the Enterprise
Module 7: – Assessment Tools and Methods
Module 8: – Social Cryptographic Concepts and Techniques
Module 9: – Enterprise Storage
Module 10: – Network and Security Components-Concepts-Security Architectures
Module 11: – Security Controls for Hosts
Module 12: – Application Vulnerabilities and Security Controls
Module 13: – Host-Storage-Network and Application Integration
Module 14: – Authentication and Authorization Technologies
Module 15: – Business Unit Collaboration
Module 16: – Secure Communication and Collaboration
Module 17: – Security Across the Technology Life Cycle
Want more information about the subjects for this course?
About
Hudson
In the confusing world of e-learning, Hudson is quite simply one of the best at what they do. Why? Because they offer first-class customer service. The Hudson Learning Center puts their customers' needs before anything else. If there's something they can do to help you, Hudson will climb mountains to do it.
The Hudson online courses, certifications, and diplomas are highly effective, offering a whole range of features designed to get you certified faster. Some of these incredible features include video and audio based training so you can see and hear your tutor, 24/7 online tutor support, and online labs to practice your skills in a simulated environment.
Come and give Hudson a try. They'll change the way you think about learning.